Students
Connor McLaren
My name is Connor McLaren, I have been playing the drums for over 6 years.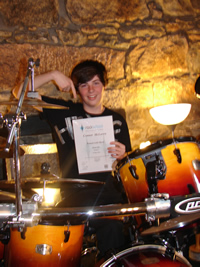 From a young age I always wanted to play a musical instrument. I was 8 years old when I met Rossini and had my first lesson and from that moment on, I became obsessed with drumming.

At the age of 9, I was the youngest member of the Ritimo Percussion Group who performed at Duff House. To be part of this group was brilliant and playing along with other pupils, who were much older than me, was a great experience.
In 2009, I achieved a merit on my Grade 3 Rock School exam and I have just passed my Grade 5 exam with merit. I have already started working towards my Grade 8 exam which I hope to sit when I'm 15 and I am also preparing for Young Drummer of the Year.

I also took part in Ritimo's first Drum Festival in 2010. It was so much fun and it doesn't get any better than performing in front of an audience.

I am also part of Rossini's new percussion group which I am very excited about.

Rossini has introduced me to various rhythms over the years but my favourites are funk and rock.
Drumming, without a doubt, is my main interest. Rossini has played a huge part in my development and enjoyment of drumming. His enthusiasm, passion and encouragement have instilled me with a love for drumming and I am very proud to be part of Ritimo drumming school.